Slurry Pump Suppliers in India - TFTpumps.com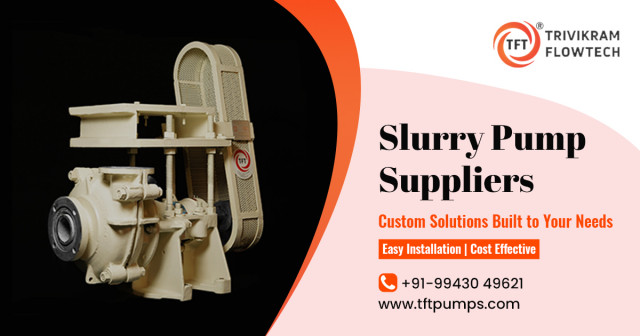 Are you looking for Quality & Energy Efficient Slurry Pumps Suppliers for your Industry.
Slurry pumps are used widely throughout the beneficiation section of the mining industry where most plants use wet separation systems. These systems usually move large volumes of Slurry Pump manufacturers through the process.
Why Choose us?
TFT Pumps is an ISO certified Pump Manufacturers in India and pioneers in supplying energy-efficient pumps and motors with its latest series of new advanced energy operated pumps have emerged as a well-known brand on both the domestic and international markets
Working application for Slurry Pumps:
- Sand mining
- Tailings ponds
- Fly ash/ bottom ash
- Sand and Gravel excavation
- Hazardous waste clean-up
- Tank clean up (replacing vacuum trucks)
- Cement plants
- Agricultural wash down pits (carrots, beats etc)
- Mill scale/ slag pits
- Barge unloading
- Silt removal
Removal of filer media at waste treatment plants
Products & Service Offered:
Find here All Range of Slurry Pumps, Hydrocyclone Suppliers, Dewatering Pump Suppliers, Submersible Dewatering Pumps, Submersible Slurry Pump Suppliers, Dewatering Pump For Mines, Dewatering Pump For Rent, Slurry Pump manufacturers & exporters in India.
Check Submersible Pump Manufacturers Best Price India Today! Book Now!
Get Instant Quote @ our Official site.
More Contact Info:
Visit Our Website: https://tftpumps.com
Our Services: https://tftpumps.com/services
Products: https://tftpumps.com/products
Email Us to Discuss: sales@tftpumps.com
Call Us: +91-8489449621 / +91-9597438001
---
Location
Country: India
State: Tamil Nadu
City: Coimbatore
Address:
Postal Code: not available
Coordinates: not available